Today I checked upon Pat's Comfort dolls project blog, and read
this
, I was amazed! Before she went I prayed that she would arrive safe and sound as well as soon. Well an angel definitely was watching over. Thanks Pat for the nice comment on my doll, means a lot to me, it's my first doll (from many more to come, God willing!) and the first international charity project I joined.
And today also was born my first amigurumi, I think will be keeping him. I have to think of a name. At work people was asking why a purple bird, why the multicolored feathers... "Well, it's half chick half peacock" I said lol I saw the pattern linked on
Sue's blog
, of course some things had to be adapted, for starters I used a small hook for the yarn caliber, and instead of taking the whole stitched I did it on back loops only. By the time of assembly the tail and wings were too thick, so folding them was not an option, but I kind of like the round wings and tail.Reminds me of princess Leia's hairdo lol Well, here you have the peachick or chicock, whatever...
Front: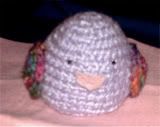 Hearty beak:


Wing and tail view: