Hello everyone! Semester is finished, I was waiting for this moment to get back on track with my crafts, specially the cross stitch, it's important for me to do it with a serene state of mind. I'll also need to work on the craft room because I had to get rid of the drawer before I got seriously harmed. The draws got stuck, more than once I injured my fingers, so it was time to say good bye to it.
Laughing purple goldfish
at Ravelry set a challenge for us, this month was recycling a humble tin can. I was delighted with it since there was a while since I wanted to do a crochet hook holder, it gave me the push to start a long overdue project. Here is what I did:
Materials: Palm hearts can, cool because it's white coated on the inside, leftover pabilo, 3.5 mm crochet hook, an eye and white glue (to attach the eye).
Procedure:
Washed the can, it had sitcky glue, removed it with alcohol.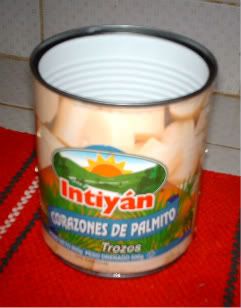 Gathered my materials and sketched the design: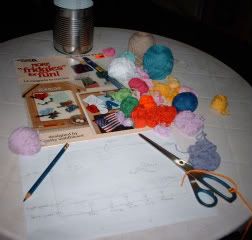 Started doing the background: grass, hills, tree and sky.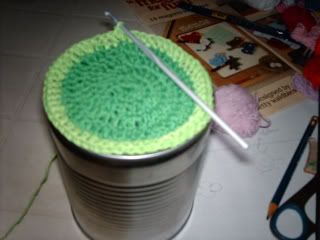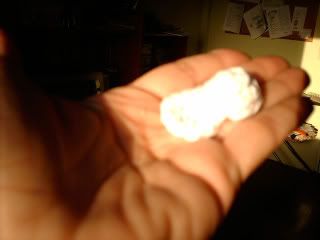 Did some flowers, a puffy cloud, sun and a red bird. The only pattern used was for the redbird, with a magnets booklet my good friend in, SD Sandy O, sent a while ago. The rest was free formed. Attached them to the cover with slip stitches an some were sewn with the same pabilo.
And, voilà!!! Here's my caddy, isn't it wonderful?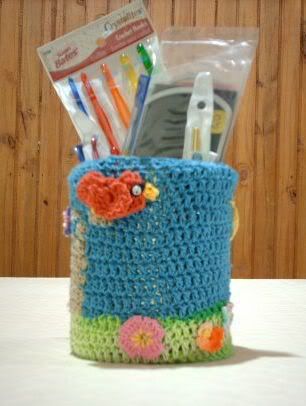 Until next time, and remember you all wonderful crafters out there, please recycle, it exercises creativity and keep the world green.
Hugs!!!
PS: Cross stitich blogoversary prizes went on the mail, but I'm still needing crochet/knit winners snail mail addys, please get in touch with me.