Hi!!! You remember how I participated at a Cross stitch giveaway at
Julie's blog
, and won. Well, past Friday I went to the PO to pick up my package. Here's what I got: the cross stitch crazy magazine, a lovely biscornu stitched by Julie, a postcard from her hometown and a cute tin with a chocolate chip cookie in it.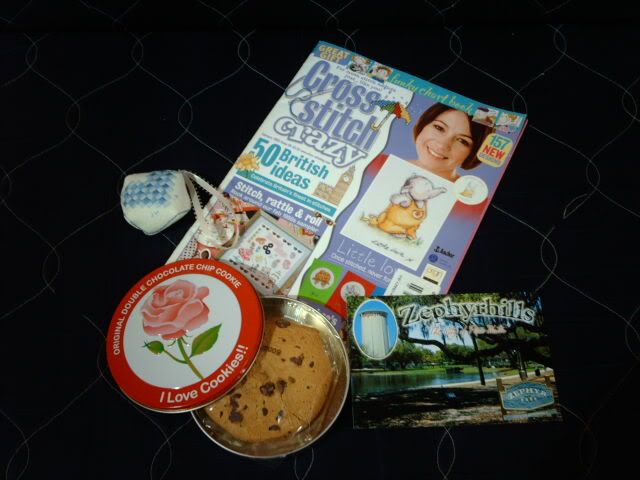 The mag is very nice, I already picked a few projects, including one for my Goddaughter Catherin, who'll be 15 next December 28th. I have plenty of time to stitch it. Here we celebrate a girl's 15th birthday big time, something like the sweet 16 in the USA.

The tin looks wonderful on my "delicatessen shelf" lol But I'm not sure how long I'll be able to resist...

The biscornu has an adorable hardanger heart in blue, my favorite color!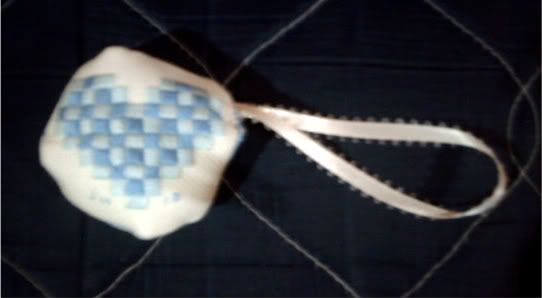 Thanks
Julie
!!! Loved everything!
That was nice, but it was also a big surprise these two postcards from
Sandy O.
She's so a good friend, never misses a month without sending me a postcard. She takes the pictures herself and then mail them as postcards, funny thing is she thinks she's not very artistic, but I bet this count as art, I have many wonderful samples of it. Thanks pard!!!
And also something unexpected, a Christmas card all the way from Greece, from
Michelle
.
Thank you very much! It's a lovely detail :o)
It matches the one I got from
Bea
about two months ago, did I thank you? Ever since the crash I keep forgetting things...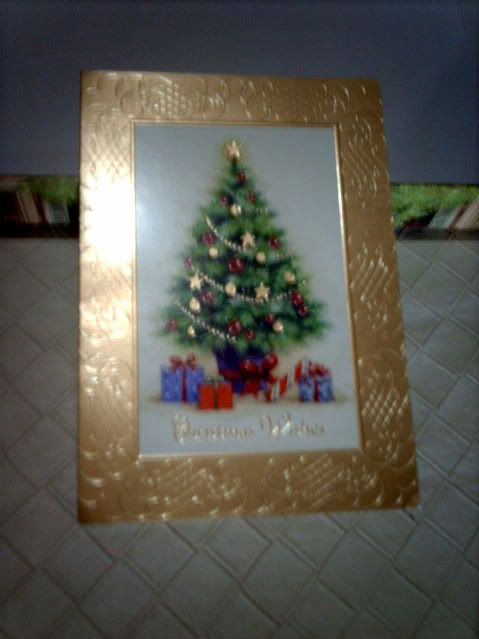 On the house front I have news, my sis
Kathe
, the one who got married past December, is moving permanently to Trinidad. I'll miss her very much, she's also on denial, but we are preparing everything to make things smooth, specially for her. We have done the wire wrapping course together, try to get together every other weekend and also I knitted a pair of socks for her. They're yoga socks, I told her they had no toes or heel because since it's so hot there, she could wear them without burning her feet lol She loves walking barefoot so they will come handy... It's been instructed to wear them when she's missing us...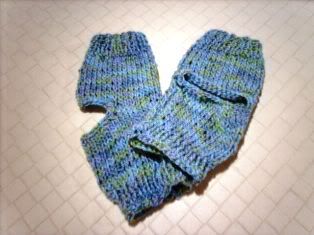 Well, now off to craft, or else I won't be able to post next week :op Until next time, happy crafting!!!