Just finished my April crafter square for the 2010 BAM CAL at Ravelry,
Tiptoe through the tulips
. It's just lovely, Lisa Harris did a great job design it. I had to stop at round 10 because was almost the 12", to get there I simply finished it with a hdc border.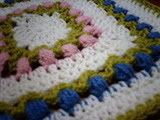 Someone has a doubt with the cluster, so decided to upload a video tutorial, it's easier for me than trying to explain LOL
BTW, I made the cluster on the Ravelry 12" square, because the one where it should go was long finished, but the point was to demonstrate that you should have 9 and not 5 loops on your hook :o). Hope it's helpful!