Hi there!!! I've finish two long due baby hats. Inspired on some Ravelry patterns modified them a bit to fit my ideas and yarn...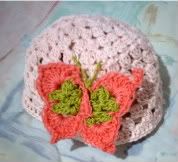 Used Senso Microfiber Cotton. Added an embellishment :o)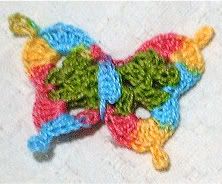 The butterfly is a pattern my aunt Margot, who lives in Spain, sent ( the sample is made with Camila thread).
Picot: ch 6 sl st on the first ch
Body:Row 1: ch 8 close with sl st
Row 2: ch 3 (counts as 1 dc), dc ch1, 2 dc, ch1 (7 times), close with sl st
Row 3: sl st to ch1 space, ch 3, dc, ch 3, 2 dc. On next ch 1 space 2 dc, ch 3, 2 dc (7 times), close with sl st. Finish off color. Fold in half being careful that the ch 3 spaces and the dc matches. Wings: Row 4: sc on the first dc (actually you will be attaching the dc at front and back of the butterfly), sl st to ch 3 space an make: 6 dc, picot, 6 dc. Skip to next ch 3 space 4 times. sc on last of the 2 dc (just like in first).
Wrap the thread 4 to 6 times around the middle of the body, sc back and forth, sl st to the first sc made on previous round.
You can make antennas of sc and harden them with glue or corn starch. I sewn them on the beanie to fix it.

And this is what I call my Groovy baby hat:
I hope they fit
Camila
(not the thread or my god-daughhter, but my friend's
Mildred
granddaughter). She's one month old.
For school, wanted to make the fanciest notebook covers this year. I decided to use one of those patterns I always wanted to make but never had the time. Inspired on the finishes I've seen on your blogs, picked
Tralala
to make them. This sheep is a cutie and is for the smallest notebook, the other two are larger, I'm choosing between three patterns: la Demoiselle de Halloween, les temps de cerises and Petite Bergère. Most likely will be the last two because they fit my color scheme. There are some "creative adaptations" because the lack of appropriate thread and also my ADD.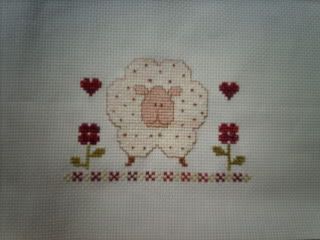 It's a lot of work, but the results are so nice! We, teachers in my school, always have this thrill to make the cutest covers each year, and yes, it is some sort of competition, but it's nice to see all the creativity displayed :o) Not only to show off, it's also about organization, check my pen drawer: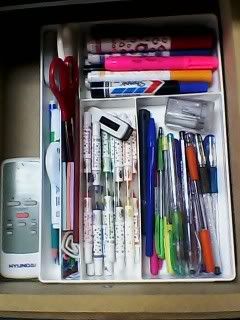 And I love to treat myself at school, check out my first day of school breakfast, it came with a tangerine. yummy, couldn't resist to bite it before the picture lol
Here's a little pincushion made with a LK design, stitched on a nightmare linen (it looks dreamy but it was so hard to stitch on it!), filled with some past year ort's, as
Annie
once advice me to be use them, they're better than fiber fill (they won't be sticking out of the cushion because of the sharpness of pins and needles).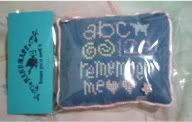 The tag was made with a new stamp from
Addicted to rubber stamps
, they have great customer service! Here's the package received from them. They always include some scrapbook paper and a small gift, in this case a wooden mounted rubber stamp, with a few candies, now that's a nice detail :D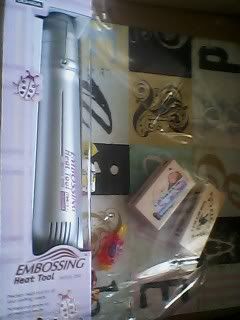 Also got my heat gun, great for embossing projects... As this one, well, it was made with rainbow ink pad and clear embossing powder, don't think it really shows, but it's glossy and puffed.
Now, off to work on cover number 1, need to see it all finished up!
Happy crafting everyone!!!