Just a small post to show my sheepish notebook cover: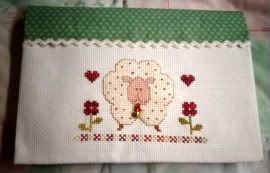 I have to give credit to someone on the web who has another Tralala sheep and used a bell, thought it was cute! I saw the picture and thought it was cool, now I can't find the link to properly give credit for the idea, but I will if I find it.
I'm thinking about something for the corners... Not sure what. Could be a triangle made of the same fabric and ric-rac or maybe something crocheted. Mom says I should use one of those triangle metal things, not sure but gues they are meant to protect the corners.
Made another butterfly correcting the body, my aunt said it looked weird. Think when she explained the body I misinterpreted it as "back and forth" but it was only meant to be a row of sc all the way around (on the front and the back). On this version, I modified a bit the pattern and made the body in a different color also added a head with antennas. I still think it looks different, she has batwings LOL
Compare it to my aunt Margot's:
Well, can't wait until Wednesday when I'll be stitching another or the notebooks :D
Happy week!!!