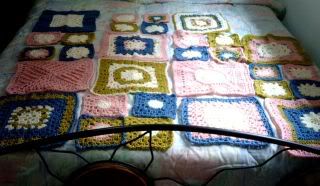 Just a quick note to show how's my new to be afghan progressing. I'm behind, yesterday manage to finish May trio and it's looking good so far, specially since I won't need more squares than the CAL's. Seems I underestimated the finished size, but to be only five months done, well, this will be a large afghan.
Good news is the yarn will be enough to finish and join the blocks.
Here's May, decided to do at least one square on each color solid, May has a whole pink square, June has a blue one, and still have to find a suitable pattern for the green one.
Happy yarning! I'm heading off to finish June's blocks.