Hello fellow crafters around the world, hope you had a nice celebration yesterday. Wish you to have a joyful, blessed, healthy and prosper 2011.
Temperature has drop here quite something, I wonder what it'll be like to get back to my cold school after so much time absent, classes were suspended past December due to the emergency (heavy rained for 20+ days, we had floods, mudslides, landslides, many people have lost their homes. Anyway, I'll be back to getting out of the house to a 10ºC at 5:30 am, most of the time I wear gloves, but then at school they're hard to work with, that gave me the impulse I needed to make my first pair of fingerless mittens.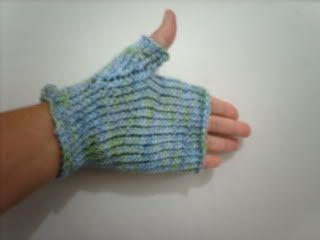 I'm so very happy because they gave me two new skills: cast on properly (double cast on) and also work with a set of five DPNs :o) Used some left over TLC cotton yarn, and based on
Pamela Grossman's pattern
, made my version adapting it to the yarn, my lack of knitting skills and ADD, didn't went so well counting the 3p 1k pattern so decided to use stockinette, can't get any easier, just have to knit all rounds. Then when the mitt was done my thumb was cold, and it deserves to be arm too! That was the second adaptation (or third, considering I also changed yarn weight lol) I just picked up 12 stitches on the thumb opening and knitted with the smaller needles.
Now that's a big How should it be done really? I just used my logic, but you can see where the stitches were picked. Maybe it's because I should have pick them on the back instead of front loop, maybe on both loops? Perhaps the problem was that I used the smaller needles right away instead of making one or two rows with the larger ones... Hmmm, seems I'll be making a few to correct all this...