Hi there! I'm again working on the Dishcloths R Us CAL at Ravelry. Been working on a few extras as well like a set of long due coasters. All done with the stash Kim aka Blackhorse sent as a RAK past year. Peaches and creme and Sugar and creme are wonderful, too bad we don't get those here.

Here's February, more pictures at
Dishcloths album
.
This one is not exact to the pattern, apparently I'm closing my yo's, I knit in a mixed style, thought it was continental. Will appreciate if someone tells me what it is lol Video is
here
.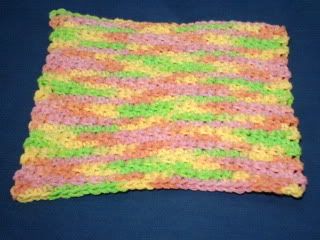 Heart lace washcloth, found
here
.
This one is a simple stockinette with garther stitch border dishcloth made for my brother and sister in law's fancy kitchen.
This is the lovely coaster, actually made four of those. Pattern is from Amber Hill and can be found
here
.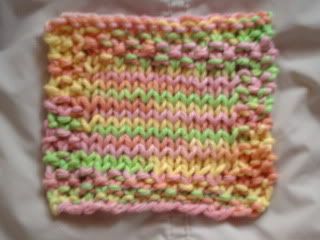 And to end the post some knit related wire stuff, a set of stitch markers which I actually kept. More at my
Stitch markers album
.
My next post will be about my new Friendship quilt. It's my month at Ravelry's bakers dozen. I asked the girls for something that they think represents them for some reason. So far I've received 5 squares, can't wait to show you all...
Happy crafting!!!