And that makes twelve. I can work on the layout and joining of my friendship crazy quilt.
Here they are:
She used a mixed technique. The brown fiber is mixed with silk :D The card has a cute fairy in it.
Love how she combined the colors. The yarn is very soft to touch. She sent me a picture of her beautiful orchids.
She made a variation of a pattern she saw. The result is, as she calls it, "night in the forest", the spikes looks like trees, and since the yarn is navy blue, well, is midnight there.
She also sent a bright headband and some dried tarragon, picked from her own herb garden.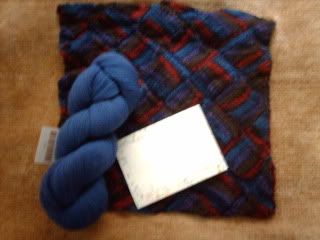 She sent a skein of merino wool in lace weight (can't get that here), the color is blue-purple, just lovely.
Thanks ladies! You made a wonderful job!
Mom was helping me decide how to place the squares, I did something then she told me to change this and that. Had to listen, she's an interior designer and knows about color combinations better than I do. My next step is to decide how to join them, since there are so many colors thought that it could work better if I use different ones according to the adjoining squares instead of the same one for the whole afghan... Mom says pink will be a nice choice.
Happy stitching!!!