... just more an afghan. It's my month, from February 10 the ladies at Bakers dozen (Ravelry), sent the squares they made for me. So far five of them had arrived, in four packages since one of them sent two.


This is a small preview. Have plans A, B (discarded) and C. Plan A is to stitch them on a withe background and embroider the names, places and something they said why the squares represent them, plan B was the same on a dark background, but tested the squares and that's not an option anymore. Plan C, and more likely to succeed, is to join them together as an afghan and do a digital scrapbook of the whole project. Guess that way I'll be able to keep more memories...

Whether A or C, here they are, along with the goodies they sent.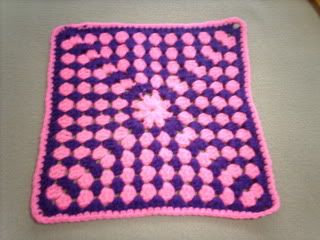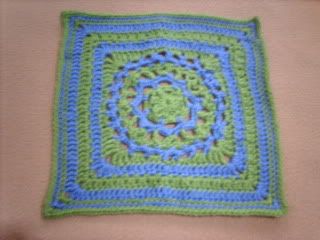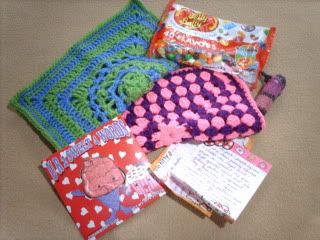 Blue and green, my favorite colors, pink and purple is so vibrant and cheery. It doesn't show well in the picture but the purplish tube is a chapstick holder (with a chapstick in it), strawberry bubble gum and my ever favorites, jelly beans :D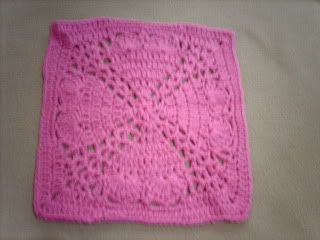 Picture shows the color less vibrant than it actually is. She chose a Valentine theme because February is my month :)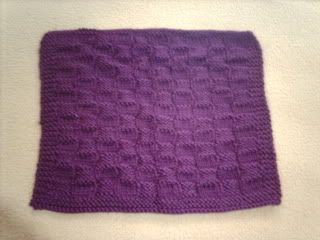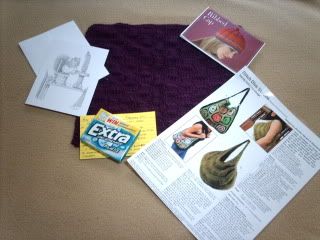 Lovely purple square in my favorite knitting stitch: basket weave. A lovely black and white squirrel card, two pattern leaflets (one with bags and hats, the other with a knitted hat I'm already casting on) and mint gum ;)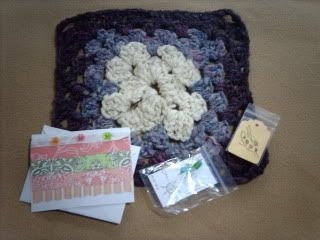 I'm compelled to tell you about the yarn, but I won't yet. The tags are so cute and the stitch markers are very fancy :-)
Aren't they wonderful, each one unique in their own way, but can't tell much or I'll have nothing to say on the scrapbook album. Can't wait to get the others, bet some are already here but we are in the middle of Carnaval, will have to wait until Wednesday...

To end the post, this is my version (a very close twin) of
Lucy
's
Birdie decoration
, published in
Attic24
. Used my fancy Senso thread for the whole of it, and a 3,5 mm aluminum hook. Tried to shoot a good picture but my camera is not helping me, guess it needs broad day light lol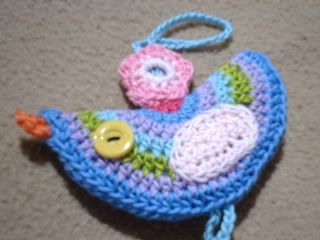 Anyway, the real deal is a cute little bird, makes me want to celebrate Christmas English style this year, hanging tons of colorful decorations and wearing paper crowns at Christmas breakfast... As seen on TV ;o)