Hi fellow crafters around the world! I bet you are getting ready for Easter, so am I. Just love the springtime and the little delights it brings, flowers, butterflies, home made cookies, dyeing eggs, egg hunt... Though in Venezuela only a few people do egg hunt and such, I love to dye my eggs for Easter. My godson and goddaughters come to my house and there will be little treats to celebrate the resurrection of our Lord.

This year I'm making egg cozies. CAL hosted by
delights
. She kindly shared the crocheted version of her chicken and duck cozies (knitted pattern at her blog) and all the hens in the hen house at
Good things together
group are working on this delightful little chicks.
The ladies have done a wonderful work so far, there are a lot of pretty chicks but also pigs, ducklings, a ladybug, two bunnies and plans for a sheep.
Of course I'm experimenting with the pattern, my yarn is pabilo and some multicolor cotton leftover I had. Have done a multicolor one (not too big, not too small, suitable for rather small eggs), a blue one knitted with one thread (too small), an orange one knitted with stockinette instead of garther (too big, but more likely because I knitted a few more rows at the head while listening to O' Pioneers by Willa Cather), two crocheted in lilac and green with two strands held together (just the right size). Will have to knit one with the directions as they are and in garther stitch so the body will have more density.
No more chatting, seems I got trapped at "Goldilocks" with chicks instead of bears lol Here they are: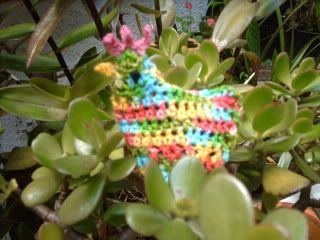 The Rainbow chick
family with Cocorocó.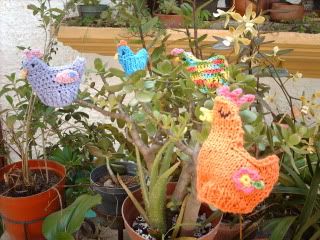 The tiny baby,
Understanding
, he'll have his ornie attach tomorrow.