Hello! I'm happy to announce that
Nathaly
's pencil case is done. At first I thought it would take days to do the finishing, but as I went on sewing, I was more and more intrigue about the result and wanted to finish it right away. Process was a little painful, mainly because I have no real knowledge of the patchwork technique and this is my second piece on that style. There were so many decisions but it was more a common sense matter than expertise.
As I said before, the embroidery design is a freebie from
Cinderberry stitches
. Thanks for sharing it Natalie!

First, fabric choices. As you can imagine, pink is her favorite color, so it had to have some.


The strips and squares were cut, then sewn. That was tricky.
Next the zipper was attached, I followed
Lou's tutorial
. Thanks Lou, it was helpful! Wasn't very hard, but still I was biting my nails lol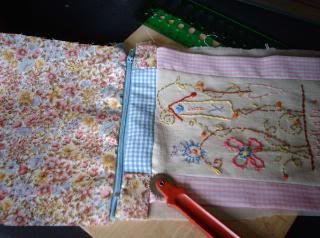 Then it was sewn all around and twisted until... Tah-dah!!!


Picture has something on the middle, but it something with the camera, the embroidery does not look creased as you can see in the other pictures.

The backside was supposed to have squares in the different fabrics, but the joining the front was so tricky that I decided to leave it plain this time.
Cute, cute, cute. And I'm specially proud of the zipper, it came out neat :o)
Then it must had something to remind little Nathaly of her God-mothers love, I came up with this attachment made with fymo flowers, beads and a "made with love" charm.
Bet she'll be thrilled, but I seriously doubt she'll wait up until school starts again to use it lol
Happy crafting!!! Thanks for looking and for taking the time to post a comment, I love reading them all.