Hi!!! I have a little time to stitch this week, someone got into the school past weekend and stole the 1st graders netbooks. They made a lot of damage because they went into the roof and broke walls to pass to the classrooms, they also stole the music console, microphones and a large loudspeaker. We are devastated. We were doing all the paperwork to report the burglary and have the replacements. Good news is that we have a new food provider and the owner gave us a fridge and he will supply food for us to cook at school. Great news considering the one we had was giving only bread like food (no fruits or proteins on the menu). Kids are happy, we are too!

Here's the small progress on my Angel's blessings:
A long while ago I stitched a
kitchen towel
with a delightful Jeremiah Junction design. Always wanted to stitch one for me, now that I have a new place, my sister Adriana gave me the towel as a house warming present. Just have finished a heart but my ADD is over the top these days, despite the size of the heart I had to frog it about three times.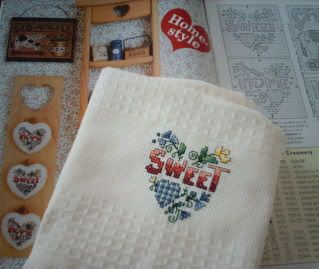 Love the colors and the simplicity of it.
We're a month and two weeks away from summer vacation... Already have a lot of craft wise plans to spend my Holiday.
Happy stitching!!!