Hi there! A few weeks ago I wore my ruana (or short Poncho) to school, one of my coworkers fell in love with it and told me to make one for her.
I told her to buy the yarn of her choice and that I would charge her just for my handwork. She got this colorful one.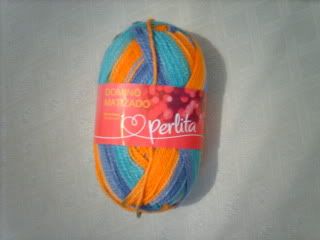 I was ecstatic, to get paid for doing something I love! Well, I got on track immediately, took me four days to complete but it was worth.
Added a different edging because this is acrylic and not cotton so the shell didn't look so good on it.
Of course, my happiness lies in thinking that my famous craft business is finally taking up. I thought a lot on how to present the product So it won't raise the cost too much but still looks nice and be earth friendly packed. I came up with the idea of a simple white paper bag, made a pretty bookmarker and used it to close the bag.
The bookmark/tag was stamped with my favorite "Handmade because you're worth it" wood mounted rubber stamp. On the front I used a simple clear stamp "Peace" plus a retro flower. Guess it matches well the ruana.
Clara wore it with an orange top tank and it raised praises all day long. Now I'll be commissioned to make more of these because Clara's sisters also want one for them (and believe me, she has a lot!).
Until next time. Happy stitching!