Hi! It's been busy around here, finishing school year and the semester at the University means a lot of paper work. University is already out for summer break, hope they give me more teaching hours next semester, but it'll be hard since a lot of students (900) are graduating, that means 60 professors won't get back, let's see what happens. Anyway, as I said on a previous post, my small business is taking off, have to do another five embroidered pencil cases, just crocheted the cutest beanies for a soon to be new mom (she requested one exactly like Camila's) and have more projects planned.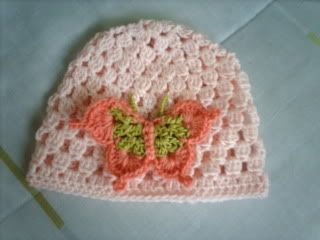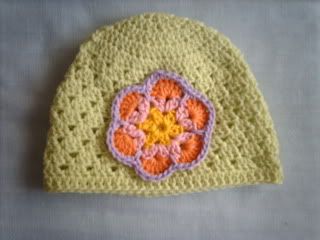 My first CQ block is done, it'll be my own pencil case, hope to finish it soon, but business comes first lol Threading the needle was driving me crazy, so gathered some of my beading stuff and made a cute needle threader matching the colors of my favorite needlebook:
The CQ started with this blue linen: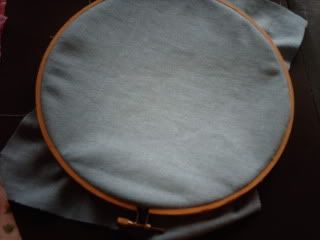 Then cut several patches: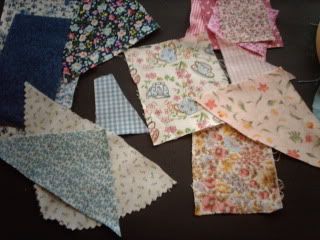 And sewn them in the fabric. I did something wrong because the patches were suppose to need no further sewing, mine did:
Then did the embellishing part, which was the best one: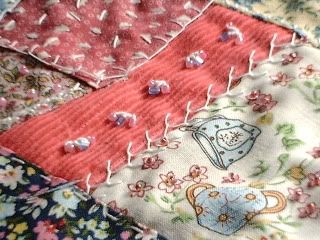 Besides the decorative stitches, added beads, laces, torchon lace and a charm: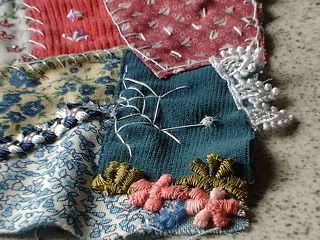 And my favorite is the spider's web with the itsy bitsy spider, often seen in Victorias quilts, apparently is a symbol that brings luck to the quilter:

This is how it looks now: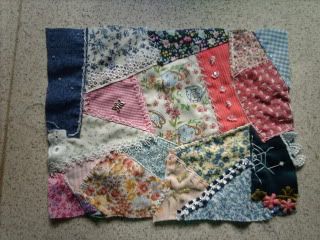 This was fun to do, but the back will be a plain cotton printed fabric, it has flowers, butterflies and dragon-flies. Not sure about the lining yet.
Have a whole suitcase filled with cotton printed fabrics, the plain colored ones are on a bucket and yet I feel like I will have to hunt for squares, stripes and dots when school vacation finally comes lol
Happy stitching!!! Thanks for visiting my blog.