Hi there! I was commissioned to make a personalized set for a second grader by her granny, my friend Sara. Her teacher wants the students to have personalized all their belongings, specially their place mats, big pencil cases (to hold the colored pencils) and a small pencil cases (for the pencil, eraser, pencil sharpener and small ruler).
She already had the big pencil case, her granny wanted me to embroider her name on it, but I told her that would ruin the plastic like material, so I made a small tag instead to attach it to the zipper.
Then the place mat, for when they have breakfast they have to use it to keep their places tidy.
And finally the small pencil case has a pretty beaded cord attached.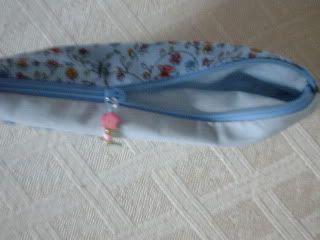 All of them are coordinated with the same backing fabric with butterflies and flowers in it, and the plain blue fabric is linen. All in blue, her favorite color.
The other commissioned pencil cases are not ready yet, been slow because of the summer cleaning.
On the reading front I finished eoght of the nine books by Laura Ingalls Wilder, still have to read farmer boy, left it to read at the end because it's not about her own life. And I'm listening to Memoir's of a Geisha while embroidering and cleaning. I't very interesting, though I already know the story.
Hope the weather is being nice to you all, we've had a few storms but nothing I can really complaint about, seeing how it is around the globe.
Happy crafting!!!