Hey there!!! I'm happy, today at the PO found a small parcel waiting for me, actually it got there past week, on October 3rd, the day before my birthday. That is funny because I ordered it past month to be the birthday present from me to myself and it got here right on time lol.
Got it at
J-list
, a nice place in Japan to buy bento gear, among other stuff. You know how I love to play with my food, here are my new toys:
The cutest set of lunch picks:
A set of mini re-usable silicon bento cups: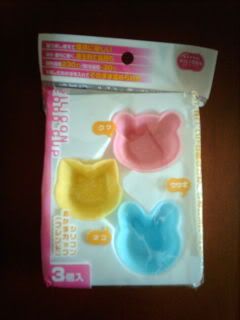 A tulip wiener shaper:
A set of hard boiled egg shapers:
If someone knows how to use it, I'll be obliged if you let me know. It has the explanations in perfect Japanese, which I don't speak... There are a few pictures on the back and for what I understand, the steps are: boil, insert, close, put the mold in water (should it be cold or hot???)
A set of rice molds:
And a silicon heart cooking mold:
I couldn't wait to try them. And what would be best than heart shaped pancakes, pink that is...
My pink batter was made using a small boiled beet to color it.
The mold is outstanding, it doesn't bleed the batter, doesn't stick, is easy to clean and it didn't melt on the pan (lol seriously, I was anxious about it), the hearts are so cute!!!
I also made mini grape Jello with the molds, but we'll have to wait until tomorrow to see how they work, I'm planning to turn the mini things inside out to see if they keep the nice animal faces.
Bon appetit!!!