Hi!!! Good news, my summer break began today. Still I have a few appointments with doctors and other stuff before I'm completely free to enjoy the summertime. Won't be traveling this year either :( and still have to make seven pencil cases; it's amazing, people see it and order at least one, but most folks have ordered more than one at a time :) Will have to put up an album on the side bar. Each new one has an improvement. Guess this will be a crafty summer.

An artist friend,
Carmen
, invited me to a drawing workshop tomorrow afternoon. I bought my drawing block and had to customize it. I always draw doodles, on small pieces of paper mostly, kids at school like them (and collect them lol) and one of my friends does too. Love to make them with repetitive patterns, well, I found out that is called a
zentagle
, and since lately I'm feeling like drawing and painting, made a research on the net to improve my skills on that front. Besides the zentangle blog linked,
TanglePatterns.com
is a good site for tutorials, how-to's and ideas. Back to the workshop, since all blocks look the same, I turned the front around and made a zentagle with my initials on it.
The tricky thing was shading it, on the picture you can see there was just the S and the M a bit shaded.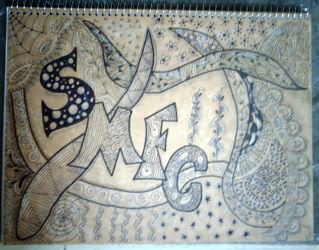 Despite I didn't read anywhere about lighting it up, had to do it, seems to me wouldn't have been complete without it. Used a white wooden crayon for it.
My favorite patterns here are the vines over the M and the C.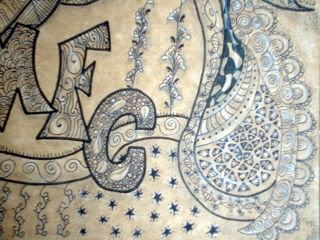 On this side I like the C and the "tripoli". Found it on Zentangle blog.
Tripoli are the sort of triangles. But the distorted black and white squares look nice too. But I do have to work a lot on the shading, as it's the hardest part and yet the one that makes it look "alive".
Well, this was fun. Zentangling, as coloring Mandalas, has the virtue of bringing calmness. They also develop creativity and enhances the ability of focus on something.
Well, now back to my reading, Laura Ingalls Wilder's "The long winter", I'm on "After the storm" part, 18% read according to my Kindle. Gotta love tech stuff lol
Happy crafting everyone, thanks for taking time to read my rambling thoughts ;)