Hi!!! I've been busy attending a chocolatier class. We learned to make truffles, "ganache" (or bonbon filling) and luscious bonbons. Well, this was just level one, but we can make delicious bonbons (trust me, I tried every flavor lol).
On a little free time I had over the weekend, while organizing the craft closet, came up with a wonderful idea. I love "Space for Living", the TV show, though it's not airing anymore, but for me one of the best parts was their weekend solutions, when they organized and decorated small spaces around a home. My craft closet is roomy, but having a lot of alike plastic keepers, sometimes I have to go through all of them to find what I'm looking for. The solution? My brand new Motex embossing labeler!!!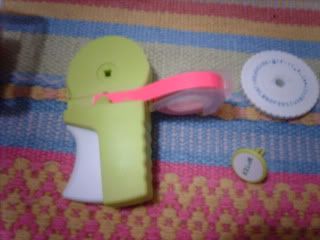 Took me a while to get used to it. I found the best way to charge the tape is removing the letters wheel, actually, came up with the idea that they should be transparent. Any way, I made a few failed attempts, as you can see, the third try was the lucky one.
The lever should be pushed gently but firm. It also has some signs as heart, star...
As it would be said on Space for Living, this is how my space looked before...
Plastic storage was not transparent enough to look at the contents, making it difficult to find the right item for crafting.
A few minutes with the labeler and...
Take a look at this space now!!!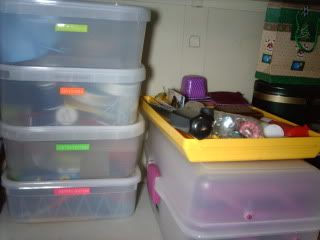 Each container is labeled in a different color to make it easier to find the proper items, even the dremel box is labeled, and of course, my gorgeous Motex deserves a new place to keep it safe from dust and having all the accessories at hand.
Now, this is a great solution!!! You want one? I got mine at
OHMYBUY
Etsy store, they have excellent service.
Happy crafting!!!