Hello! Are you ready for the weekend? Well, I am., with 4 psycho-pedagogical reports to write, some other paper work for school I still plan to take some time to craft.
I received my package for the Easy Peasy Project Bag Exchange from Good Things Together group at Ravelry. My partner, Mary, made not one, but two drawstring project bags for me. The fabric she used is fun and cheery.
One of them came with a S.A.B.L.E. badge, I think its such a nice detail! And I had a Magnificent Seven moment reading it it came to my mind that "truer words were never spoken" LOL
She added some goodies, blank ATCs, a treat now that I'm making some for trading. Also cute vintage tags, a
box of
mini colors and a gorgeous ATC series "Garden escape". Thank you Mary! I'm happy with everything :)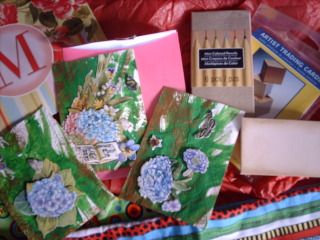 I already put them to use with two projects I'm determined to follow through.
And since I had small drawstring bags, I used two of them, one for each bag to keep the notions (stitch markers, hooks, scissors...)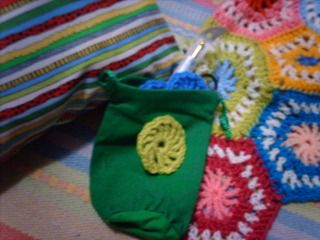 Well, hope to get to stitch a bit. Happy weekend!!!