Hello fellow crafters! I'm still hanging on, waiting for the upcoming vacations... Apart from school I'm busy making commissioned presents for teachers (I'll blog about it later, after the recipients get them).
Mom let me used her sewing machine for a while, to make the bag for the exchange and to finish the commissions. As a thank you present I'm working on a dust cover for it, but also organized her notions tin and added a few things for her. I can't show a before picture, forgot to take it but that's better because it was so messy!!! LOL
First I organized the bobbins and the different fabric pressers, put all the small things on a plastic container (the ones with soy sauce from Chinese restaurants), she already had the needles in a tic tac container, added a double needle to build up her collection :)
Then I upcycled a vitamin C container for her magnetic brooches. The sticker says "Thanks", labeled it so she doesn't have to open it every time to remember what's in it.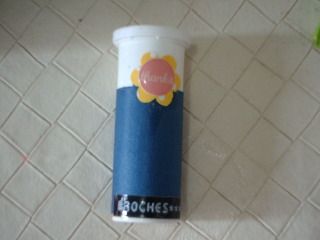 I didn't want the needles to be lying around, in fact one of my fingers have a painful reminder they should be neatly arranged; looking for something appropriate found this pretty Helga Mandl design I cross stitched a few years back, it has quite a story, the fabric bled, I tried to save it using chlorine to give it a vintage look, did like how it turned out but never had the time to complete it.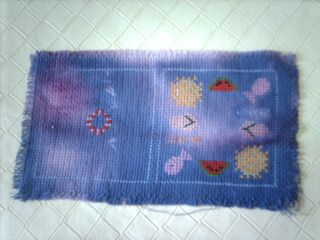 Finished it as a needlebook (it was originally a biscornu). Apart from the fabric to stick the needles, made two pockets for the threader, the tailor's chalk and that other thing for opening buttonholes and ripping the sewing apart (I don't know the name in English, and now that I think about it, not in Spanish either lol)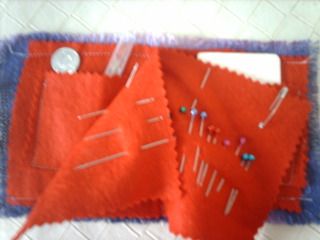 Had to toss a few more needles and pins (how can someone sew without pins??? She handn't any).
To complete the needlebook glued a Popsicle button in the center. Mom saw it and she was delighted!!! Good thing because she usually is picky with everything.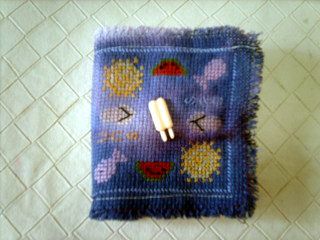 Mission accomplished. Now just have to finish the cover and oil the machine before I give it back (as she instructed me)...
Happy week!!!