Hello fellow crafters! As said before, my plans for the vacation are all about crafting, so I made a list of UFO's and projects I want to make. It's a long list so it'll probably run until Christmas, or the next year, who knows lol
On the crochet front, I was trying to make sense of the shape in the Lionbrand CAL Afghan, finally did adding hexagons here and there. As for the size, well, three times this is what I want, but it all will depend on whether the yarn I have is enough for it, otherwise it'll be smaller, really don't want to buy any more yarn for it, but I will only if there's no other choice.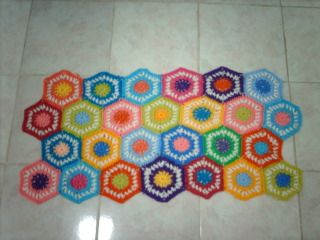 The Breezy summer cardigan is almost done, the body is ready and I'm working on the sleeves.
But the best accomplishment of today was finishing a long UFO. My first SAL, "Back on the road again" by Barbara Ana and Helga Mandl. It's very dear to me because it was the first time I participated in a SAL and could gather all the materials, before that I used to substitute threads in a project.
At first the idea was to frame it. Then thought it was better to make something useful. Of course, it had to be a bag. Got some color coordinating cotton fabric, since blue is my favorite color and it has blue and white just as the triangles on the stitched design, that was the perfect choice for me.
On top of the design placed a pretty torchon like lace. Don't know the name for this kind of material.
It's a pocket, so it's backed with one of the matching fabrics.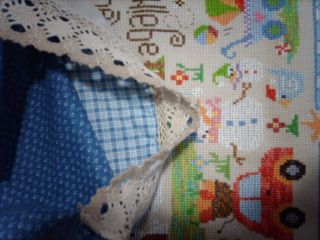 Also made three large pockets on one side of the bag and four small ones on the other. This is what it looked like before it was sewn.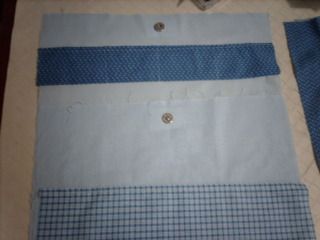 And after.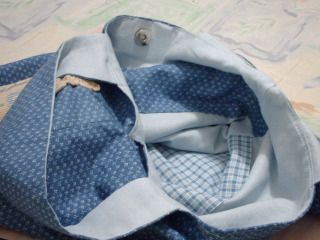 The lining is a 40 ct pale blue linen. It turned out as a rather monster bag, look at the size before sewing.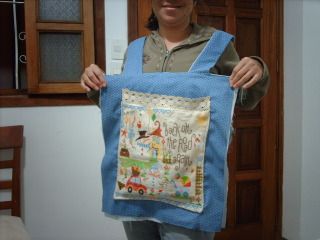 After sewing it's 17 inch (43 cm) by 14 and 3/4 inch (37,5 cm). Guess it'll make a nice travel bag, which it's actually very consistent with the motif.
But it has a flaw, can you guess??? Right! The handles are not sewn right. I came up with three possible ways to carry it. Number one, with both handles on the shoulder, it gets ugly on the top.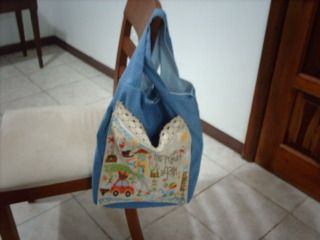 Number two, passing one of the handles on top of the other. Easier to carry, but still looking ugly.
Number three, as a back pack, which I think isn't either practical nor safe.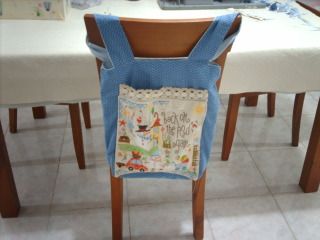 Despite the error, I'm loving my pretty bag and can't wait to use it :)
Happy crafting everyone!!!