Hi there! I've been missing my crafts, my blog, my embroidery... Let me tell you about the schedule I have these days:
Mondays through Fridays:
5:00 am: Wake up, doing everything we do before going out (brush teeth, shower, coffee, and other stuff).
5:45 am: go to school, that means walking for about 30 minutes to get to the bus that will take me to work.
6:45 am: if I'm lucky, I'll be at school, having breakfast before doing all my work.
7:00 am to 12 noon: work, work, work with my special needs kids, their parents, teachers and any other stuff our dear government makes up (like going to a Carnaval parade).
12:00 noon: lunch.
12:40 pm: going to the sewing classes, sometimes I walk part of the way because of the traffic. Other times I have to get supplies before going to class.
2:00 pm - 6:30 pm: sewing class, these days we're cutting and sewing the patterns we made, for now I've made a dress, the blouse it's almost done, the skirt is half way through and I'm about to cut the pajamas.
7:00 pm: home, dinner, sit about 15 minutes (no more or nobody will get me up), doing next day's food, preparing the things I need to carry to work and class. While cooking, I'm reading emails.
8:00 pm: sewing the things for sale, these days I've worked on hot-cold therapy pads, place mats, bags and pencil cases.
9:30 pm: (if I'm lucky, because some times it's later) much needed relaxing shower.
10:00 pm: bed! I read a little, say my prayers and at 10:30 lights are out.
I'm trying to leave at least Sundays to relax. Past few months I went out a lot on weekends, but I need to stop for a while. Saturdays are all about cleaning, washing, cooking and sewing. I need Sundays to make the things I find relaxing. Going through blogs I found
Haydeè's
, she's hosting a SAL for the cutest, girliest sewing kit. I found it past the deadline for the sign up, but she was so darling that she let me join. I'm gathering the materials and I'm hoping to have the first part done by tomorrow, since we're having a small holiday I'll be able to craft (we're not working Monday nor Tuesday, it's Carnaval here). Good because I was missing my cross stitch so much!
I made a little something to send on the mail to some friends, as a blogoversay treat. But guess what, I was told that "we're not sending packages to the USA because of some problems", they didn't said what the problems are, I think it's outrageous, and scary, we're suppose to be living in Democracy, but there's nothing I can do about it, except waiting to have a lot of money to send them by a private courier, which is more expensive but I don't care, I want to send my treats! Well, they'll be gone one at a time a few months from now :S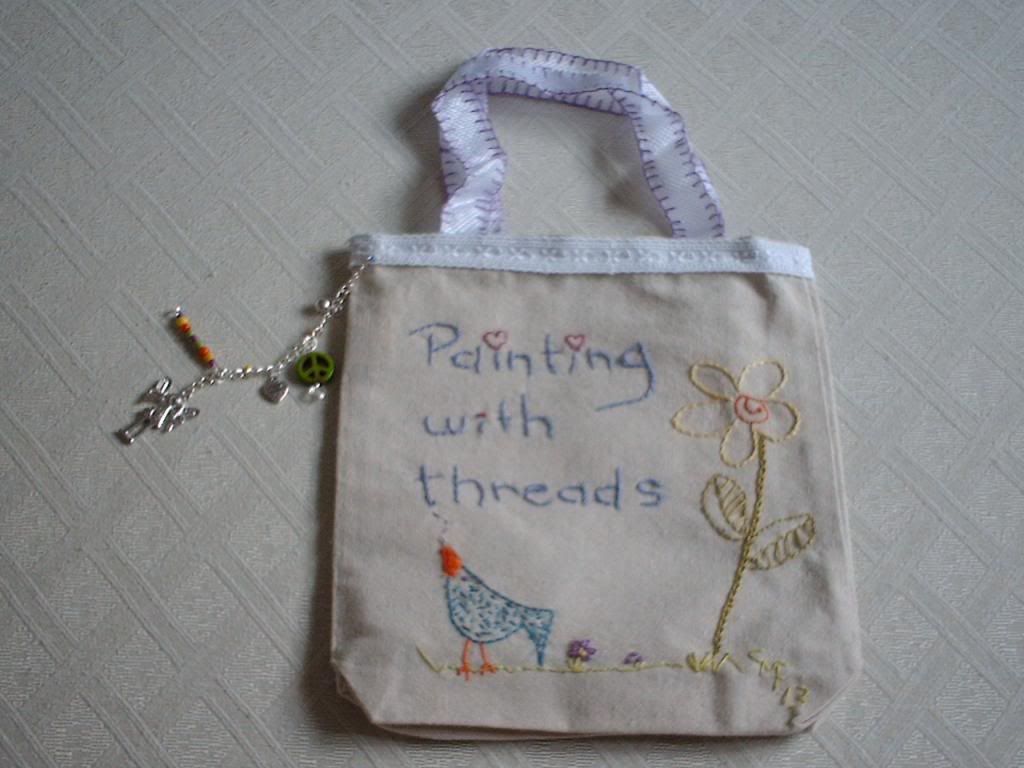 I have a
new blog
, for my growing little business, it's in Spanish, because my clients are here in Venezuela, though I hope to go International some day ;P One of my favorite products are the therapy pads, the cover is made from polar fleece.
To end the long post, these are crayons for my special needs kids, made those as a Valentine's treat.
This is how they color:
I have a new broadband connection with a less expensive, more efficient plan, so hopefully I'd be able to post more regularly and also to read your blogs!
Happy crafting!!!