Hello fellow crafters! As you know I'm taking sewing lessons, Monday through Friday, 2 pm to 6:30 pm since September 2012, the course will end next July. We passed the pattern making part and now we are cutting and sewing. To practice I've made some girl's dresses, to give away, of course some people ask me to make some for their girls, so I'm expanding the business lol
So far I've made:
A dress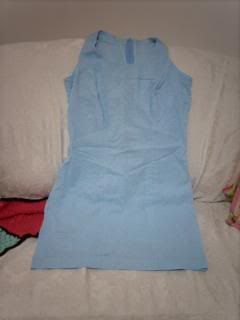 A pajama
A shirt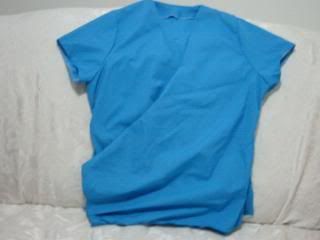 A girl's dress
Another girl's dress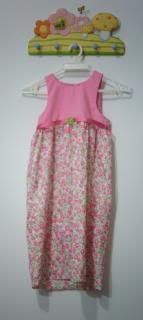 My beloved Necchi acts out from time to time, I've been borrowing mom's quite often, so a friend offered me a sewing machine her sister gave her 20 years ago and she has never used... I had to oil it because the shaft arm didn't move, and also replaced the belt (well, actually it didn't have any). Now it works like a charm!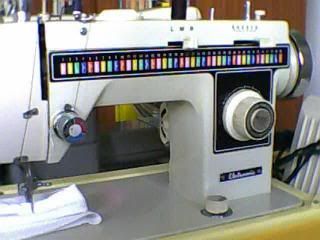 Isn't she a beauty? I'm excited because it's easy to use yet offers many possibilities, like free embroidery, it also comes with 40 discs for embroidery, they come out different depending on the needle position, that means 120 decorative stitches! Cool, and it also has several presser feet, including one for making buttonholes, one for zippers, another for button, other for rolled hem and others I don't know what they're for (I'll ask you later on).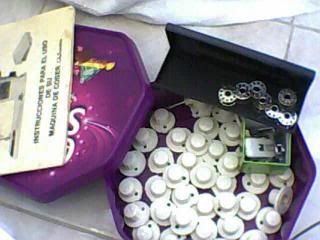 Right now I'm working on the pants and some pillow case dresses (for girls ages 2 and 3). Also started the favors for the exhibition we have to do on July, they used to be the same item, a pin cushion, worked at class but this year the teacher asked every student to bring about 20 of any design we choose. I came across a
little owl pincushion
and decided to make it. This was the prototype, but some parts were glued, so I decided to enhance that.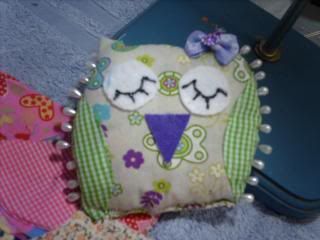 Grabbed my fabric and cut 24 of them...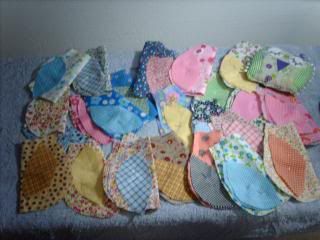 The final version is all sewn and comes with a fancy pin ;)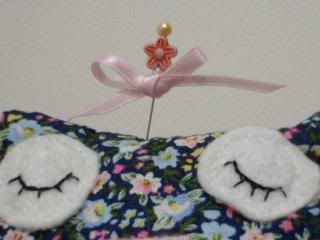 I'm exhausted but all has been worth it ;)
Happy crafting!