Hello friends. Vacation is here and I'll be on my way to Trinidad and Tobago next week. For now I'm trying to leave everything organized, tidy and ready so I won't have to worry about anything. Also I seldomgo to the beach, so these past few days had to wash all the summery clothing, and crazy as it sounds, my carry on, where I'm planning to pack all the things I'll need to stay a whole month there hee hee
Well, one of the things I need to take care of is the package with the girls' dresses and owls. There also something for their mom and dad but not made by me. Anyway, I wanted to make a card for them, so they can keep it as a memory of their auntie Sandra. Recently I came across these adorable fairies and bought two of them from a really nice store in my beloved UK,
My Crafty Heart
, they were super quick to mail them, the postage cost was perfectly reasonable and they even added a sweet message and a cute surprise.
The stamps are Sweet Elin by Nellie Snellen. Took me a while to find them but Lisa, from
Wishcraft
was very kind to point me to the right direction (you should check her blog, she works wonders!). Ther are four on the set but they only had two, so I ordered these and will order the other two later, when they are back on stock.
The stamps produce such a neat image that it seems to be printed instead.
Ok, the cards, I don't consider myself very talented when it comes to scrapbooking, but I enjoy the process, we don't find here in Venezuela many of the things needed for it, so I work with what I have and try to solve the lack of cute papers and stuff creatively.
I don't have copic markers, used regular Prismacolor and aquarelle Faber Castell crayons to color the images. The accents are made with glittery markers and gel pens, also used glitter paint and glossy accents to give them some depth.
The cards were plain, using the Fiskars Embossing system did some embossing and then accented it with pastel chalks and a little glitter.
The flowers on Genevieve's card came as a present with the stamps, they are the cutest things. I'll use some for embroidery. The stars on Evangeline's card are some laser stars bought on my favorite wood paint store in Caracas.
The inside is just a pink paper cut to fit and then punched with matching themes.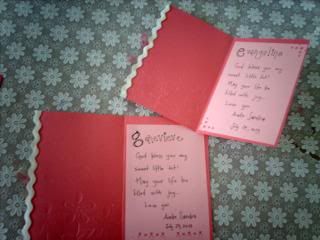 They might seem plain compared to the lovely cards I've seen out there on scrapbookers blogs, but I love how they turn out, I'm sure little bro and sis in law will cherish them. as for the twins, they will smile and try to chew them (they are at that stage these days lol).
Well, hope you have a nice crafting week, I'll try to post pictures from the trip regularly. Of course there will be some crafty things to show, will take some embroidery with me and also do some wire wrapping with Kathe.