Hello fellow crafters!!! I'm officially a seamstress ;) Well I think that should be like one of those role playing games and I'm now a level 1 seamstress lol On the hand front, its almost completely heal, been working fine with it.
We were requested to do 10 favors each, but some of the students counldn't make any, so I made 23 owls and 12 candy shaped pincushions. Take a look: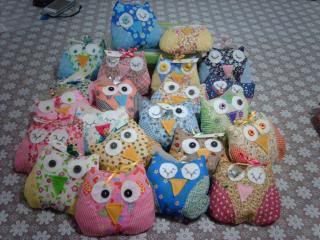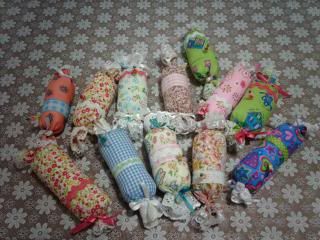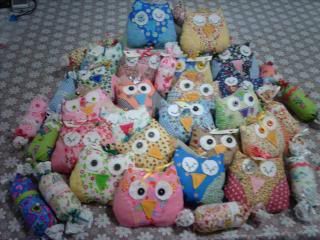 Also made the matching owl for the other twin's dress. This time I decided to add some more texture so they can explore with their hands.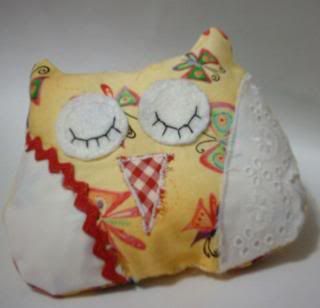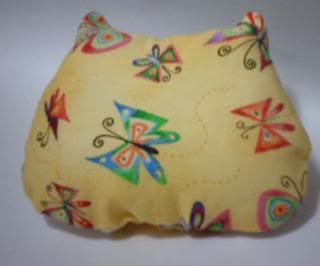 And on the mail got new stamps, a set of Spanish phrases and an alphabet set, both having in mind my flourishing business...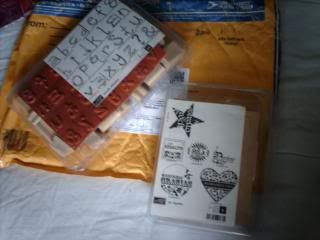 We don't get stuff like this in Venezuela, well, at least on regular stores, and if we find it, the price is usally outrageous. I saw it on ebay, but most stores don't ship to my country, asked the seller of
Rubber Stamporium
and she was very kind, she answered quickly and even combined my shipping to make the most of it ;) I'm very grateful she did and now can make fancy stamps for my customers...
Also received a long wanted set of WOCS magazines, the ones for Joan Elliot's "A year of blessings", my best liked Angel Afghan. I'm not sure when will I make it or if I'll make the whole afghan or use the angels on individual items. I'll take it easy but I'm so happy... God bless ebay!
And to end the post, sis Kathe convinced me to set up a commercial facebook page, I did and so far have sold 18 ribbon bookmarks and five therapeutic pillows. You're welcome to visit
Sandra F Productos Artesanales
official facebook page, like it and share ;)
Now I'm off to work on a few things for Paola Valentina, my god-daughter who will be 15 in August, as you know that is important in the latin culture. She's going on a "Quinceañeras Caribbean Cruise", on the meantime her parents and me will be visiting Kathe on Trinidad (oh yes, I'll post pictures). I'm making a set of pretty pouches for her personal stuff and a fancy dress for a dinner party, and if the time and machines are good to me, then I'll make her a funky dancing mini skirt ;)
Have a blessed weekend and happy crafting!!!