Hello friends!!! My hand is still far from perfect, still hurts when I do chores or crafts, but my doctor said I should be testing it and let him know how did it work. My next appointment is by mid July.
On the meantime I'm finishing the stuff for the show, graduation from my sweing course will be next week, which is funny, today is my Special Education Teacher Graduation Anniversary.

I manage to finish the other pillowcase dress. The girls saw them and Evangeline applaud lol Well, she does that every times she sees me, maybe because I was determined to teach her to do that when she was 11 months old. I like how it turned out, but still have to make the matching owl.
Didn't make i twith a lining because this fabric is thicker than the other one, guess it was better to leave it like this, so the baby won't be feel hot wearing it.
This is how they look together.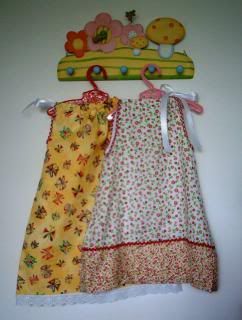 Grannies, mom and dad approved them, let's see what the sweet little tots think of them ;)
And I'm super excited because a "just because" surprise present is about to reach its destination YAY!!! Remember the bag made for my blogoversary? I sent it in May, when the ladies at the PO told me that the mail to USA was back on. That means I can work on the other ones to be send...
Have a happy Sunday. I'll spend mine sewing the owls we'll be giving as favors on the show.