Hi! Two days to go. I should be painting the windows but since the weather is awful, it's raining, then decided to do some other kind of painting instead. Yesterday I received my
Sugar Nellie
stamps from
Funky Kits
, they host a challenge on their
Sugar Bowl blog
and this time is "anything goes". So I grabbed the lovely "Bloom" and made a pretty card, which I'm planning to give to my god-daughter Paola on her 15th birthday.
So, here is my entry ;)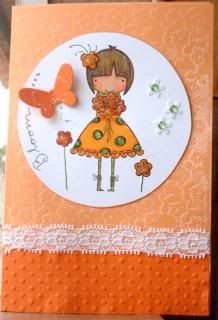 Love it! Isn't it cheerful and sweet?
Materials used:
Bloom, Sugar Nellie Stamp.
Orange matte cardboard for the card.
White Opalina cardboard to stamp the image (it's not glossy but it's slightly shiny).
Bright orange paper, to make the bottom.
Sizzix, textured impressions folders, "Dots & Flowers Set".
Rolling pin (I don't have the Sizzix machine).
Water to moist the paper (and make easier the embossing process with the rolling pin).
Memories, pigment inkpad, color: Unicorn.
White Lace.
Glue stick.
Markers (Berol, Pelikan, Stabilo 88, Amigo, white gel pen and some generic ones).
Glittery sticky make-up (the one used for fantasy make up, used on the flowers).
Royal Coat, glossy accents.
Flower sequins.
Self adhesive rhinestones.
Butterfly cardboard accent with opalescent glitter.
Have a crafty weekend ;)